WELCOME TO BRUNSWICK STUDIOS
One to one tuition for Guitar, Bass & Drums
Learn with our friendly, experienced tutors in Brighton & Hove.
Learn to play Guitar, Bass or Drums with fun, affordable lessons with our friendly, experienced tutors. From your first note to your first gig, we are here to help. Home visits and Skype lessons available. Brighton & Hove based tutors.

We cater for all styles, ages and abilities. If you've just started out playing or have been learning for a while, we can help you progress and build your skills.

From step one to the stage we cover; musical technique, music theory, song-writing,
learning repertoire (learning songs), session styles, ear-training, time-keeping, musicality and expression of ideas.

We also help our experienced students learn how to take their playing to the next level and get out into the world of live performance, gigs, studio work and touring. Many of our students have gone on to release their own original music and find success working in bands.
ADAM - GUITAR
07825 625753
As a prolific musician and songwriter, Adam has performed all over the world. Writing songs with inspiration from his travels and learning from each new culture and style. Having taught guitar for 15 years, he is an incredibly knowledgeable and insightful tutor. Adam's main approach is to assess the needs of a student and help them build on their skill-set to gain confidence in their ability. He has a vast array of lesson plans to help students of all levels get more from their playing.
Mike is an in-demand Bass player with 20 years of experience of live touring and session work. He has performed to packed crowds at some of the biggest festivals in the UK and Europe.

He has been teaching Bass privately for 12 years. His main approach is to teach each student to their own goals rather than an over-riding syllabus. Most of all, Mike will help you unlock your potential as a full-on Bass player ready to take the stage.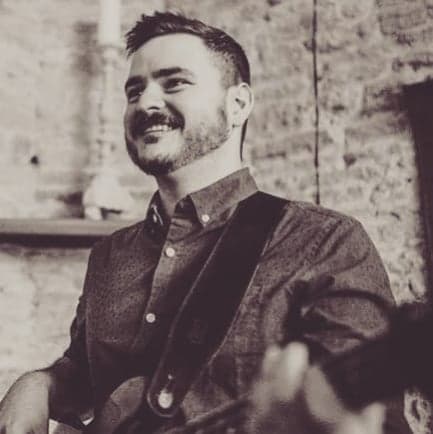 Bill is an in-demand session player and musical director with over twenty years of experience. Bill has played some of the biggest festivals and stages in the UK and across Europe and has spent a lot of time under microphones in some of the country's best recording studios.
Bill has been teaching drums for eight years to students of all ages and abilities. His vast experience and dedication to the art of drumming make him one of the best drum tutors working in the UK today.
Lessons start from as little as £15 and can be paid on the day or up-front for regular slots.

We offer discount for block bookings, group lessons and even do gift vouchers!
Please email or call us to find out more about pricing and availability.
bass lessons
Mike Pockett
07932 318545
Brighton - Hove - Aldrington
GUITAR LESSONS
Adam Wilkens
07825 625753
Brighton - Hove - Aldrington
drum LESSONS
Bill J Burns
07943 732235
Brighton - Hove - Aldrington

Our tutors each have dedicated teaching spaces which are fully equipped with everything you need for a fun, productive lesson in a relaxed, welcoming environment. If you prefer, we can travel to you for a home lesson. Our tutors are based in Hove so please bear this in mind when requesting a home visit.
Depending on location, additional costs may be included for travel time.

When making a booking please let us know if you are after regular lessons, home visit lessons or Skype lessons.

We look forward to starting you on your journey into music.
BESPOKE LESSONS TAILOREd TO YOU
We believe that playing music is all about fun and expression - That's why we plan our lessons around your goals and needs to help you get the most out of your playing. After all, the way you play music is about you. We help our students to develop their own vocabulary in music so that they can get the maximum enjoyment from playing songs, jamming with friends or even starting a band and getting out into the wider world of Music.
learn with us on skype
Brunswick Studios offers lessons online in 1080p HD resolution to anywhere in the world. Now you can learn from friendly and experienced tutors in the comfort of your own home, with your own equipment, at your own pace.
Skype Lessons are a great way to catch up on practice without spending time travelling to and from lessons.
It's a great way to see a timeline of your lessons and see your progress as we continue to learn together.
Our tutors can share additional learning resources and suggested listening with you during lessons, as well as sending you lesson notes afterwards. This way, students can revisit parts of their lesson after it's finished and brush up on their skills at their own pace.

For more information on Skype lessons - Click here -